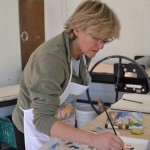 WELCOME to ART ALLEY, Allison LeBaron's Community Clay and Painting Studio.
Here are some items I need you to know about so that the studio will be a happy place for all of us to make art and enjoy each other's company.
MUSIC/RADIOS:
Since my music, and music volume, may be your noise, and vice versa, be courteous with music. If possible, use earphones. If not, please keep music volume low.
Regardless of volume or content, anyone in the studio who is bothered by music has the right to ask anyone else to turn his/her music off. This includes people coming into the studio when music is already playing. In other words, there is no first come, first serve when it comes to music.
GUESTS:
You are welcome to have guests at the studio. If they want to do some art work or clay work with you please put $5 fee in the box. Please make sure they follow all the guidelines.
(I charge $10 an hour for non-students to use the studio.)
TOOLS:
Members and students need to provide their own tools. Students have access to buckets and bats for the wheel. Members should use their own. Allison has a variety of tools and clay for sale.
GLAZES:
Students should not be using the glazes unsupervised.
Blue buckets contain cone 6 glazes for oxidation electric kiln. White buckets contain cone 10 glazes used at an off site gas kiln.
Don't add or subtract water from any glazes; they have been carefully formulated for optimum consistency. Make sure you stir the glaze completely from the bottom. This takes a few minutes. If you see that a glaze is lumpy, too low or too thick, alert Allison to correct the glaze.
Ask before using outside clay and glazes, not encouraged to prevent firing disasters.
Wash or scrape discarded glaze off pot into scrap glaze bucket.
CLEANING UP:
Please clean table with a scraper or sponge and the floor with broom and mop when you're done in your working area. When mopping, keep refreshing the bucket water in the sink to avoid white clay stripes on the floor.
When finished on the wheel or the table, clean it before moving to the other work area.
Clean up splash pans and wheel in the recycle barrel and clean up tools with a bucket of clean water; this keeps clay out of the sink. Keep your wet clay in your water bucket and recycle on plaster.
Put wet tools and buckets away, keeping the sink clear of items.
MISCELLANEOUS, but still important:
Do not leave food in the studio, as attracts cockroaches and rodents. Pack your food trash and take it out.
We don't have access to the parking lot dumpster.
When sanding your pots please clean up dust well. Sand over newspaper, sink, or trashcan.
Do not allow small amounts of clay or glaze onto the parking deck.
Move your signed greenware and unfired glazed ware to designated ware carts.
Members don't duplicate studio keys.
No gallery fee will be collected from members. You are welcome to sell your work at the studio. Non-members may show on art walk nights for 30% sales commission to Allison LeBaron. We all pitch in for Art Walk expenses.
FEES:
Members: $125/mos due by the 1st of the month. It helps to have it earlier as I also pay rent on the 1st. Put check in wooden box secured to Allison's private studio shelves. Please add $1.00 for each day late to payment.
Kiln fees: Bisque free when using ART ALLEY clay, Glaze firing – $.025/cu in. per pot, $15 – ½ shelf, $25 – full shelf, $80 full kiln firing when ART ALLEY fires it.
Experienced clay firers – $40 for full kiln – reserve on calendar, fill out firing ledger, write down the start and finish meter reading. Wash kiln shelves, sweep, put away furniture.
Always confirm that the kiln is off when it is predicted by checking and then texting Allison.
CLOSING and SECURING STUDIO:
The last person at the studio should:
Ensure that all non-members (non-key holders) leave the studio when you leave. Members are under no obligation to manage students using the studio outside of the student's class.
Turn off both air conditioners to closed – off – position (with the remote found on the wall at the front door).
Make sure all the wheels and 4 sets of lights (front door, above wedging table, back door, chain over slab roller) are turned off. Exception: keep the outside motion light on (switch closest to door).
Lock 2 doors- front and back glass doors.
Thank you for your cooperation, Allison LeBaron